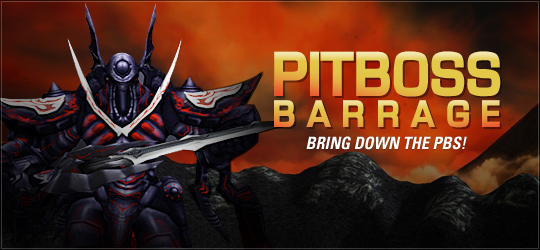 DONE

Jan 30, 2013 13:00 ~ Feb 12, 2013 21:00
Attention all Novus Citizens! The plant is currently being invaded by giant angry PitBosses! Take them down for a chance to take home nice items!


PitBosses

Elmer
Ether - Endless Flame Draco
Volcanic Cauldron – Soul Sinder
Outcast Land – Sealed Teledun

Excelsior
Ether – Endless Flame Draco
Volcanic Cauldron – Soul Sinder

Beast Mountain - Dagnue

Spawn Times
The event PitBosses will spawn every 4 hours, 6 times a day.
1AM 5AM 9AM 1PM 5PM 9PM


Prizes
All items dropped from these event PitBosses are FREE FOR ALL. Even if another race kills them, other races can still loot!

However, you will need a Holy Mental Scanner to loot the PBs!

Level 55 Type "E" Weapons
Level 65, 60, 55, and 50 Intense Weapons
Level 55 Leon Weapons
Shield Reward Boxes – Levels 50, 55
Armor Reward Boxes – Levels 50, 53, 55, 57, 60, 65

Boxes of Triumph, Dicem, and Kesar
Burst Potions and Offensive Chargers
Najaal's Crystals
Jewelry Boxes
Gift Boxes – Large, Regular, Small
Supply Boxes
Brilliant Gold Boxes
Talic Crystal Compressed Packs
Talic's Crystals

The higher level the PitBoss, the higher chances of getting better items!

Slay them all before they wreck havoc on Novus!

Disclaimer
Event monsters are extremely aggressive and powerful. Any lost EXP from this event will not be restored. There will be no item exchanges.